It's that time of year once again for a visit to the Maryland Renaissance Festival, an absolute favorite of mine for years. As a teenager, I grew up only a handful of miles away from the current site of the Faire, so it was common for us to go there on late summer and fall weekends. I honestly have no idea exactly how many years I've been going or how many times I've been, but suffice to say it's happened for more than three decades of my life.
Though I've been there countless times, it's only fairly recently that my wife and I have taken to wearing costumes. This began when we rented one of their costumes near the front gate on a whim and has since turned into our closets having multiple options for each time we go. The latest of these is my brand new tartan kilt. (Side note: It wasn't Scottish weekend, so I was technically not dressed appropriately, but if you've ever been to a Renn Faire, you know that is the case for almost everyone. I'm looking at you, guy in a goat furry costume.)
The tartan I bought – and believe me, I spent several seconds "researching" this online – belongs to the Clann Donnchaidh, also known as Clan Robertson. It's the hunting variety of tartan for the clan. I chose it because my grandmother is a Collier and Colliers are a sept associated with Clan Robertson. So I figured, if I'm going to get a kilt, it might as well be tangentially related to my family.
Speaking of family, my wife's father is incorrigible. Here he is checking to see if I wore the traditional kilt undergarments, i.e. nothing.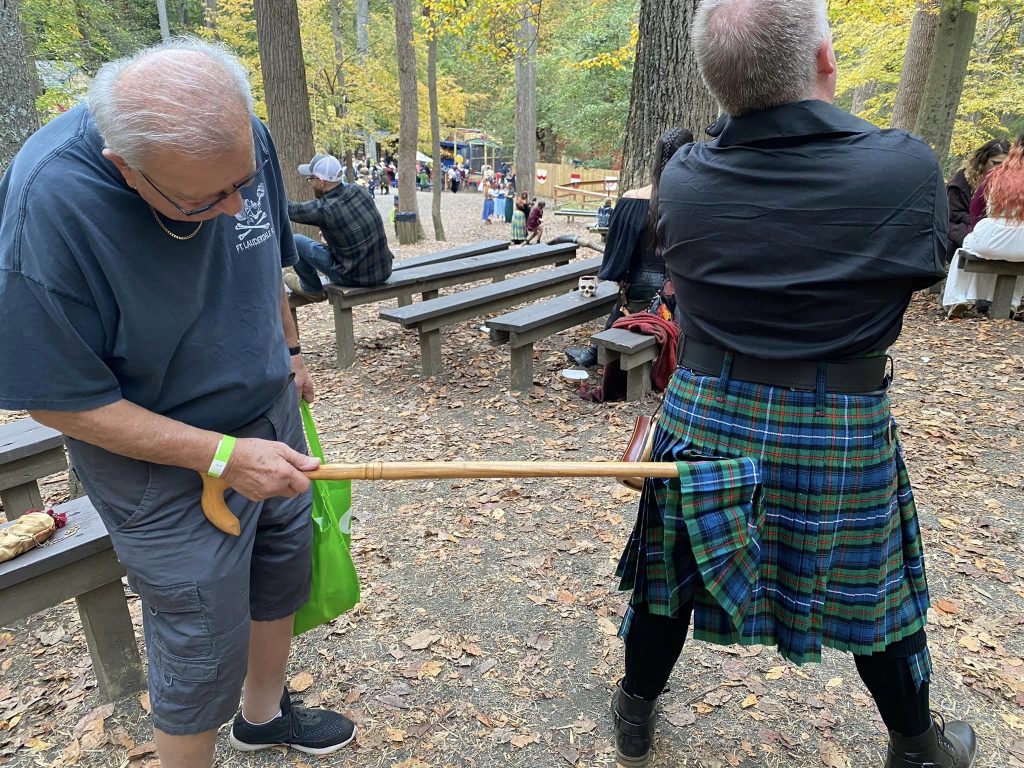 So why do I keep going back to the Renn Faire? It's fun, the shows are entertaining, and there's plenty of the frothy ale flowing. That said, the really great part is the continuation of a string of memories filtering back through most of my life…
…the time I bought a sword as a teenager, which I still have to this day under my bed. My wife jokes that it's our home defense strategy, but that sword's old blade couldn't hold an edge even when it was brand new. It is, however, heavy as hell, so perhaps I could knock out a would-be home invader with it, if I could just avoid killing anyone else mid-swing.
…the time my friends and I went to the fairgrounds in winter and "broke in." We slipped through a VERY large gap under a gate and walked around in the empty place, just looking at the closed and forlorn shops and restaurants in the dark woods. Finally, we stumbled upon the camper home of the winter caretaker, who was watching TV inside and fully unaware of us. Still, we ran away and left, fearing to be caught.
…the time my father-in-law (see photo above) paid the belayer at the castle wall rock climb $5 to yank me all the way to the top. I happily squeezed the stuffed toy dragon up there to win my coveted certificate of achievement.
…the time I rode an Indian elephant with my daughter. I remember how thick its individual hairs were, like little bits of wire poking out of its skin. I remember my daughter amazed at the experience, just as I was. We both had our first elephant ride at the same time.
…the many times we saw Shakespeare Skum performing a hilarious, rushed version of one of the Bard's plays.
…the many times we saw Daniel Duke of Danger perform atop multiple unstable bits of metal tubes all rolling in different directions, yet he was still able to balance on them. I know it's an act, but it definitely was one that took skill and a heck of a lot of practice. No doubt a few thousand bruises and maybe some broken bones, too.
…the many, many times we saw Johnny Fox, sword swallower extraordinaire, perform his funny and amazing act, via the magical influence of "waters from India."
…the many, many, many times we shouted HUZZAH! at the joust.
…but mostly, the countless times we laughed, met up with friends and family, threw axes, threw knives, threw throwing stars, got steak on a stake, watched a magician or band, occasionally got a turkey leg or Scotch egg, went through the maze, or – back when such a thing was still allowed – won a "FREE BEER!"
It's been so many years of so many memories, my wife and I even decided to have our 20th anniversary remarriage there, officiated by my cousin, Tina.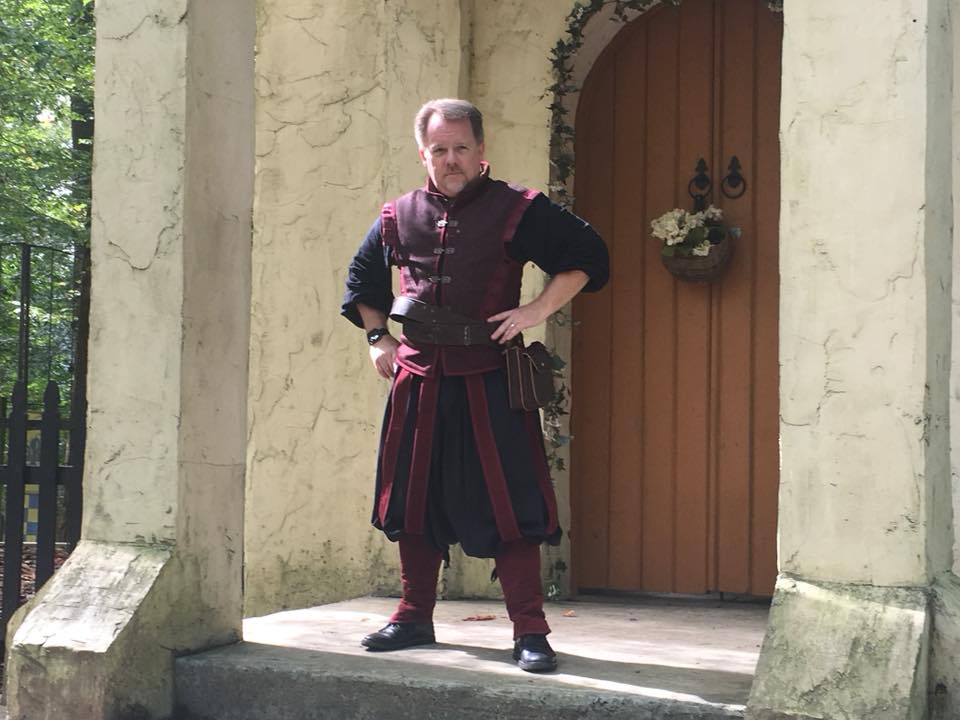 Thanks, Maryland Renaissance Festival, for the memories. See you next year, and let merriment abound.