Happy to report that the print and ebook editions of TWICE (Lightning Hopkins book 2) were released as promised today, March 26, 2020. In addition, both book 2 and book 1 of the series are currently running at a special price for the ebook edition, of just 99c.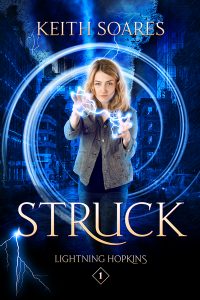 STRUCK (Lightning Hopkins book 1): https://amzn.to/3alZlSr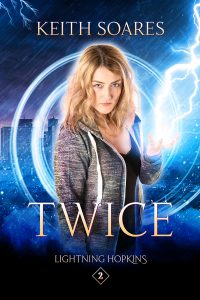 TWICE (Lightning Hopkins book 2): https://amzn.to/2JhT4v6
This time around, Lyn and her electromagician friends end up in Paris, France. Not too coincidentally, I took a trip to Paris with my family last summer (before… well, you know, the current world situation…). Many of the things I saw influenced parts of the story. Here are a few photos from my trip. Once you read the new book, you should notice their Lightning Hopkins connection.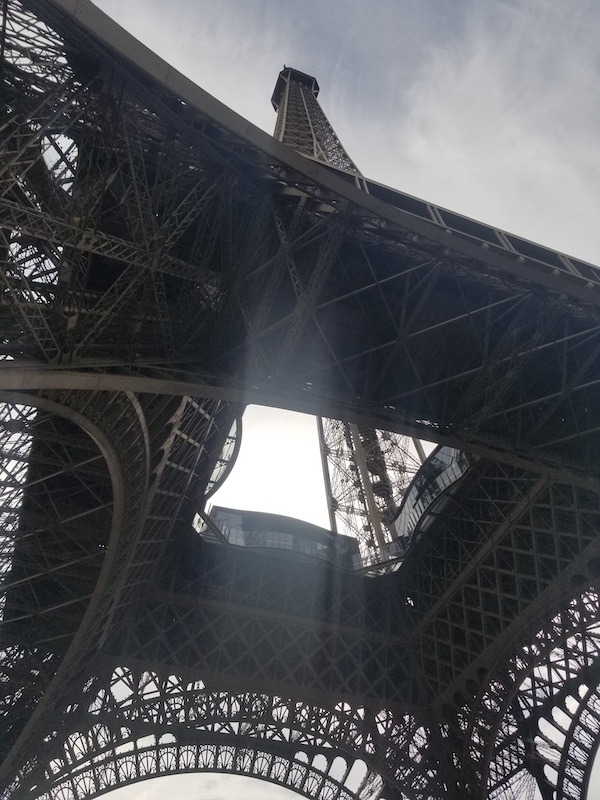 First, of course, is the world-famous Eiffel Tower, but more specifically, what it feels like to be BELOW the tower. It's really a gigantic pile of intertwined metalwork. And its elevators sway. Not cool, Monsieur Eiffel.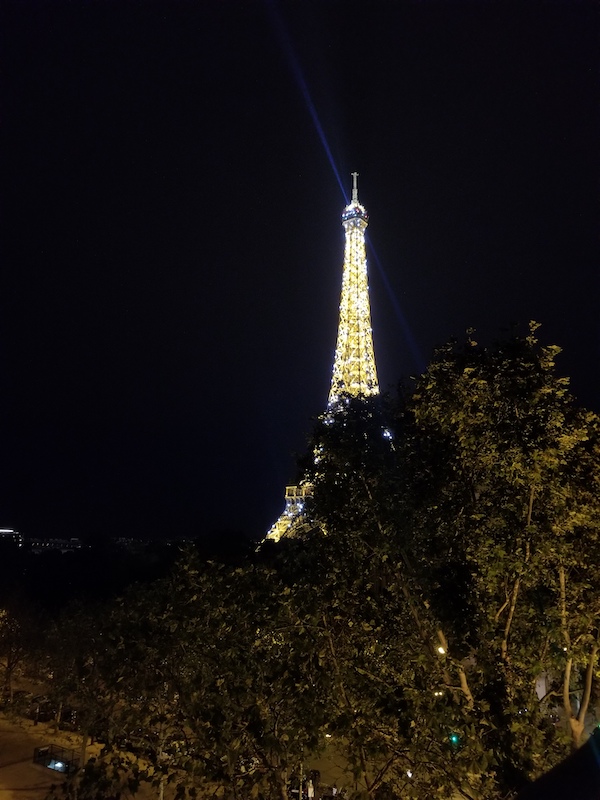 At night, the tower is beautifully lit, and I particularly liked the rotating beams coming from the top platform, circling around like some lighthouse for alien ship landings.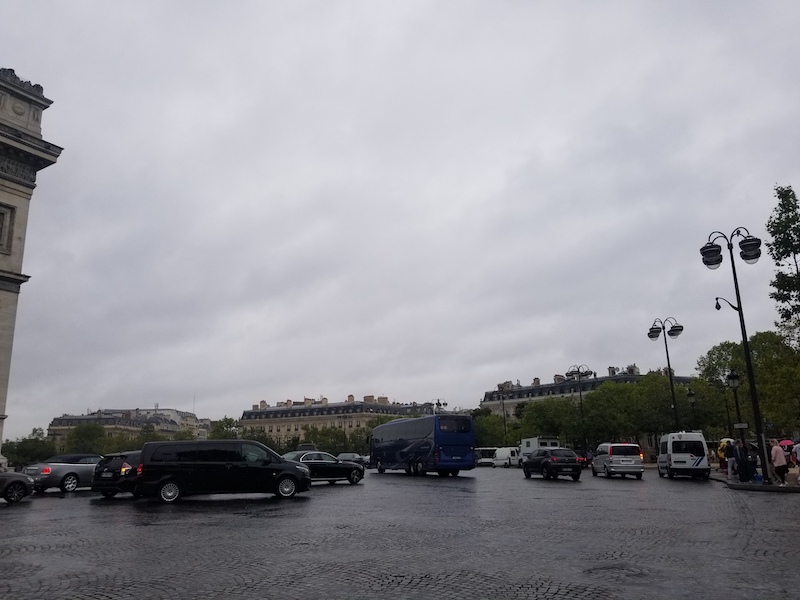 The circle surrounding the Arc de Triomphe (barely seen on the left here) is often overrun with cars. Here, even on a rather miserable, rainy day, it's quite busy. Notice that there are no lane markers. It's a free-for-all. Fun to look down upon from atop the Arc.
It's an overstatement, but not much of one, to say there is a cafe on every street corner. Here are just two. If you own the supply company for these chairs, tables, and umbrellas, you have a constant business stream.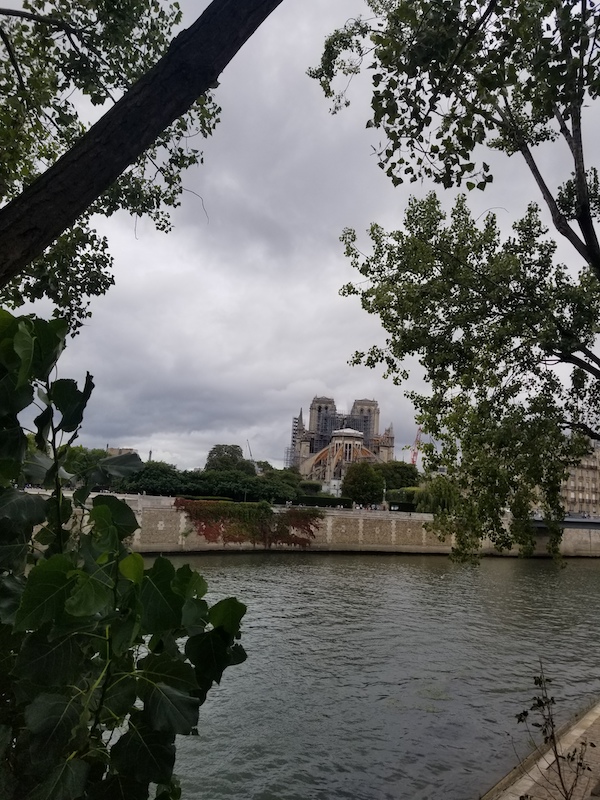 Despite the devastating fire, Notre Dame Cathedral still stands. It's undergoing a massive effort for renovation and repair, but still dominates many views along the Seine.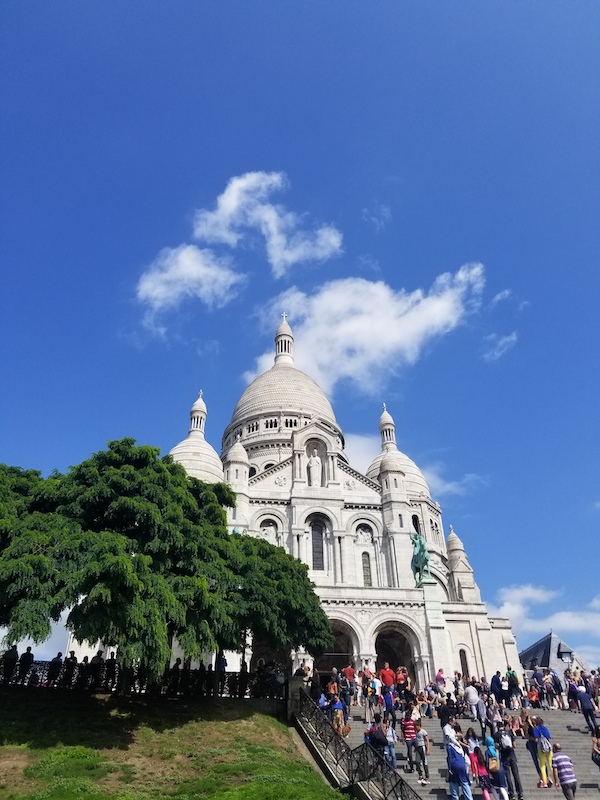 According to the musical, high on a hill lives a lonely goatherd. Well, in Paris, it's not a goatherd, but the white-domed structure of Sacre Coeur that stands high on a hill, overlooking much of the city. It's a very popular place for photos, selfies, panoramas, and probably some pickpockets.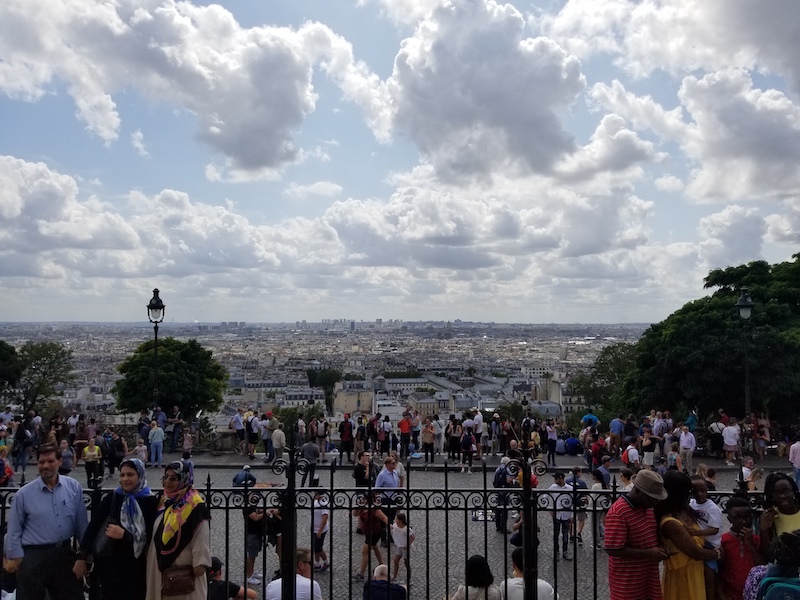 When you're in front of Sacre Coeur, this is the view of Paris you get. I didn't manage to get the Eiffel Tower in this shot, but it's out there. And you never know who might be around you in one of these crowds.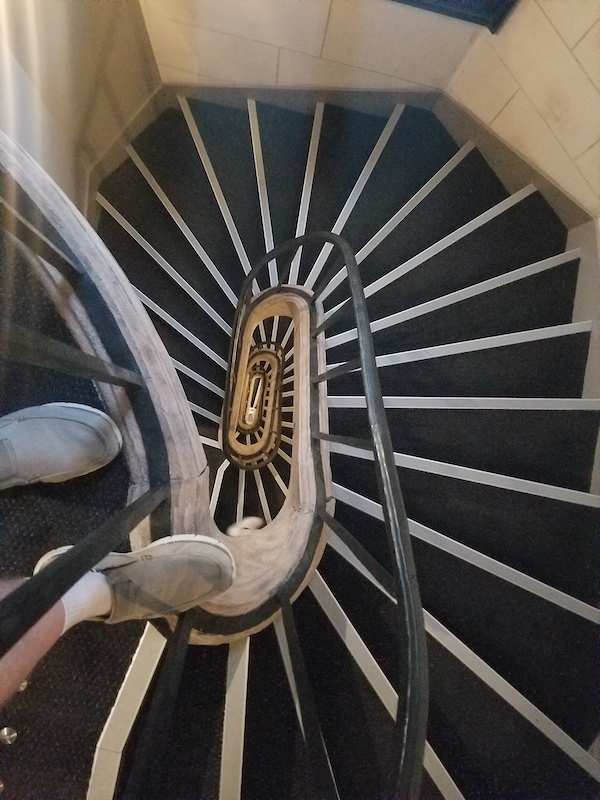 While you're staying in Paris, get the top-floor flat. Unless of course you don't like heights and have to carry all of your luggage up a staircase like this for five floors.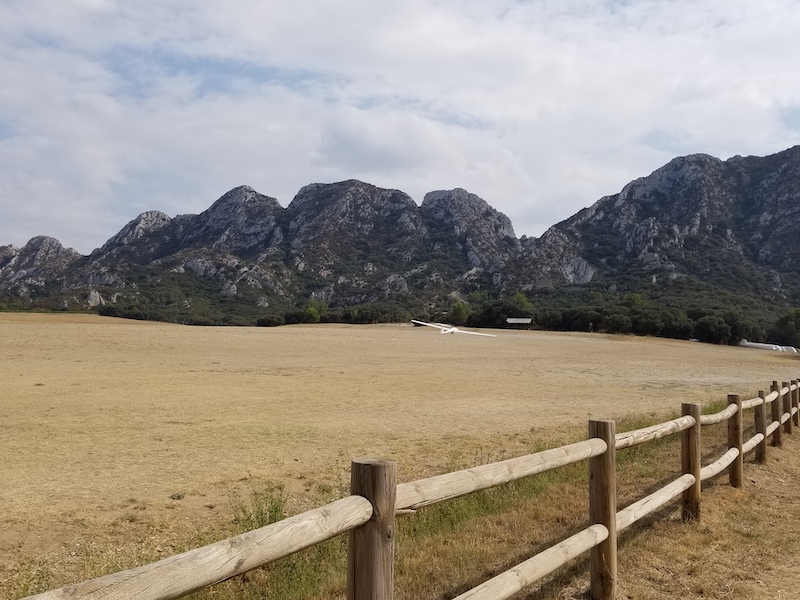 Last but not least, get outside the city, where there is beautiful countryside very close by. We didn't expect to stumble across a glider airstrip, but here one is. Moments later, a glider swooped down and landed, just beside us. Then the two people inside hopped out, grabbed a wing, and dragged it into the hangar. So, that's a thing that happens…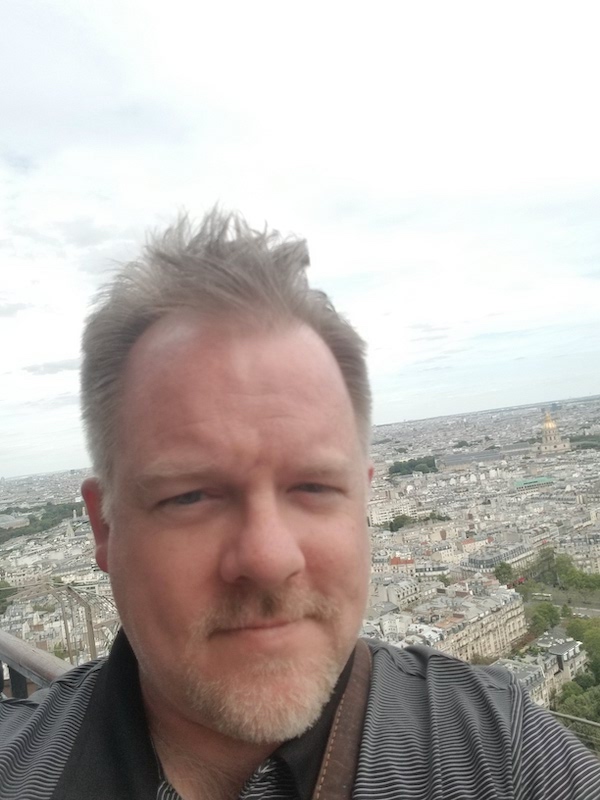 Hope you enjoy the continuing adventures of Lightning Hopkins in my new book, TWICE. As for flying around using electromagic in Paris, this is about as high up as you're going to find me. I think my hair alone here represents my level of concern at being halfway up the Eiffel Tower.
Cheers,
K.