I've just been informed that the cover for the first John Black book, For I Could Lift My Finger and Black Out the Sun, won the June 2016 e-Book Cover Design Award for Fiction, from thebookdesigner.com.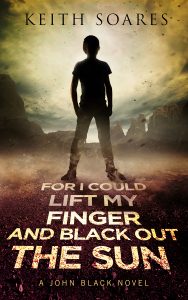 Here's what they had to say about it:
An exciting, dramatic, and almost mythic cover. All the perspective lines converge on the backlit boy, creating a strong cover that, along with the title and it's equally epic treatment, will move people to "pick up" this book.
Gotta say, I like it, too – thanks, folks!