Here's a first look at the cover of my new box set for Elemental: The Complete John Black Series!
I can't adequately explain how happy I am to finally release the complete John Black series, all in one box set. This is all four full-length novels, plus the four short stories that fill in the gaps between the novels and provide additional backstory. I've titled the box set Elemental, because there's always been an undercurrent of the elements in these stories. The first novel, For I Could Lift My Finger and Black Out the Sun, deals with fire – John and Sol end up in the blazing hot desert. And It Arose From the Deepest Black revolves around water – the Gorgols rise up from the deep ocean. On a Black Wind Blows Doom, air – Sol uses a fist of air to kill. In the Black Veins of the Earth, well, earth – it all comes back to the earth.
Plus, for the first time, I'm releasing the final short story, from Holly Black's perspective, titled "Cloak of Black, Mantle of Sorrow." It's only available as part of the box set – a bonus for getting the complete series. Here's a first look at the cover for this new short story.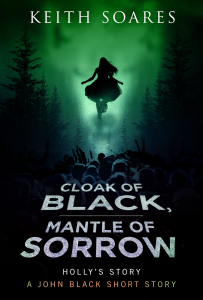 Four novels, four short stories, well over 400,000 words (or nearly 2,000 pages – hey, that's like one and a half George R. R. Martin novels!), and more than 3 years of my life. When I started, I had no idea how much work this series would be, or how long it would take. Now, looking back, I'm proud of it and pushing back my chair a moment to take a breath. Thanks for coming along for the ride.
K.
Get the box set Elemental: The Complete John Black Series today – exclusively on Amazon ebooks.